A crypto marketing agency is a specialized marketing firm that focuses on marketing and promoting cryptocurrencies and blockchain-based businesses. These agencies typically have a deep understanding of the crypto industry and are well-versed in digital marketing techniques that can be used to reach a wide audience of potential investors and customers.
As the world of cryptocurrency continues to evolve, so does the landscape of marketing for these companies. As such, it's becoming increasingly important for crypto companies to work with specialized agencies that understand the unique challenges and opportunities that come with marketing in this space.
Here are some of the benefits of working with a crypto marketing agency:
1. They Understand the Landscape: They have their finger on the pulse of the latest trends and changes in the cryptocurrency landscape. This intimate knowledge allows them to better understand the challenges and opportunities that come with marketing in this space. As such, they can develop strategies that are more likely to succeed.
2. They Have a Network of Influencers: They have established relationships with influencers in the space. This gives them access to a powerful network of people who can help spread the word about your project.
3. They Know How to Reach Your Target Audience: They know how to reach your target audience through various channels, including online and offline media outlets, social media platforms, and forums. This ensures that your message is getting in front of the right people.
If you are looking for help with marketing your crypto or NFT business, then working with a specialized crypto marketing agency may be the best option for you. These agencies can provide you with the necessary expertise and resources to ensure that your business is able to reach its full potential:
Proleo.io is one of the top crypto marketing agencies that deliver. They have a team of experienced professionals who are well-versed in digital marketing and know how to get the most out of your budget. This influential agency can assist in growing your crypto, fintech, or NFT project and increase its visibility. They specialize in PR and content marketing but they also offer a wide range of services such as influencer marketing, social media marketing, SEO, and more.
Key features:
Access to the top crypto and mainstream publications.
Targeted promotion through influencer marketing on social media platforms such as Twitter, YouTube, TikTok, and Instagram.
Visibility and exposure through comprehensive promotion efforts, including daily posts on top crypto and NFT subreddits, Telegram channels, and Twitter.
Improved search engine ranking through tested SEO strategies, which helps generate organic traffic and increase your domain authority and online visibility.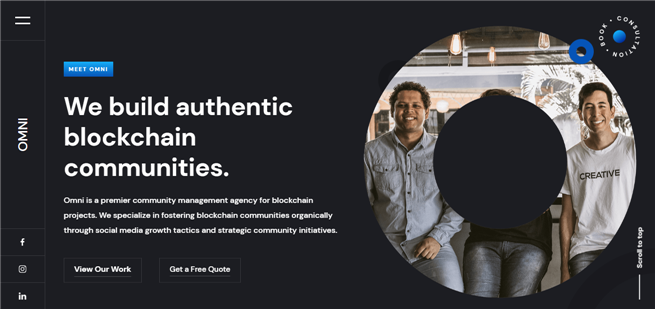 OMNI is a top-drawer Web3 and crypto marketing agency that specializes in building blockchain communities from the ground up. This Toronto-based, full-stack marketing agency is renowned worldwide for producing sustainable solutions that turn your community members into paying users. OMNI's exceptional clientele consists of disruptors across the major Web3 categories of DeFi, Gaming and NFTs, with OMNI guaranteeing their success through social media growth tactics and strategic community initiatives. Owing to their deep understanding of social platforms and experience with guerrilla strategies, OMNI can take your Web3 business to the next level, doesn't matter if you're an established brand or a building project in the blockchain space.
Key Features:
Tailored marketing solutions that substantially increase your project's exposure, with the goal of educating, nurturing and growing your multi-channel community.
Full-suite social media management for Twitter, Instagram, LinkedIn, Quora and Reddit that follows a value-based approach to storytelling, and is informed by ongoing trends.
Paid media campaigns to create an aggressive growth trajectory that's sustainable throughout various stages of launch and improvement.
Research-backed, creative strategies that assist in securing VC funding, activating KOLs, organizing and promoting events, growing communities on Discord and Telegram, all focused around your brand's multi-channel growth and increased profit potential.
Lunar Strategy is a web3 native marketing team helping projects with everything from go-to-market strategy to authority building and web3 growth initiatives. They have, since 2019, helped over 200 web3 projects build communities and establish authority.
They offer multiple growth channels such as public relations, influencer marketing, social media growth, community management & paid advertising.
Key features:
Interactive strategy & branding workshops are well organized and make the strategy & onboarding work very well.
Specialized in DeFi & GameFi growth, Lunar being an agency that only works with Web3 companies then, they have really managed to create strategies just around that.
Well-connected with industry leaders & publications, their leadership has connections with leading Web3 media, venture capital and key opinion leaders.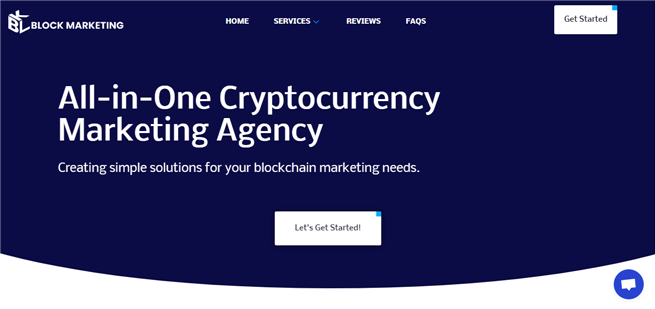 BlockMarketing is a UK based cryptocurrency marketing company offering an extensive list of services. The company consists of a team of experienced professionals passionate about digital marketing and blockchain technology and aims to create innovative crypto marketing strategies for crypto, NFT, GameFi, Web3 and Defi businesses and start-ups.
Key Features:
Clients can rely on BlockMarketing for their extensive list of Twitter Influencer and Promoter accounts as the agency consistently delivers quality content and implements best practices to capture the attention of any chosen community.
To deliver quality news articles and press releases on a number of mainstream publications to maximize the brand awareness and inform the crypto community of updates to a particular project.
Social media management services such as in-house writers and content creators building your presence on Twitter and Instagram.
Advisory & Strategy services and connecting your team to the right people and services in the crypto space to get your new project kicked off or your established project bigger and better.
ICODA is a crypto marketing agency that operates in different parts of the world. The company supplies its customers with turnkey marketing strategies and innovative technologies created according to the goals and peculiarities of an NFT. The team will define every step carefully and meet the requirements of any customer.
Key Features:
Collaboration with content creators, influencers, and cryptocurrency enthusiasts on social media channels;
Run robust SMM and PR campaigns. It is of major significance when boosting brand popularity and finding and attracting new investors to your business or token;
Paid ads as a prominent solution to invest your money and time in. ICODA will customize it properly, create eye-catching advertisements, and help in receiving investors and customers from reputable sources.
Creation and nurturing of the online reputation of web3 projects. A complete set of services to create and improve the public image of a project/brand.
When you're looking for the best agency to help promote your cryptocurrency business, make sure you choose one with a proven track record and a team of experts who understand the unique challenges and opportunities in the space. With the right partner, you can take your business to new heights and reach more people than ever before.